Tirumala Tirupati Devasthanams, Tirupati
Requests you to  "Gift life to Children"
TTD Invites donations to SV Pranadana Trust from the interested Donors/ Institutions towards the Construction/Establishment of Super Speciality Paediatric Hospital in Tirupati.
The main objective of this Super Specialty Hospital is to give new lease of life to the children who are suffering from cardiac and other life threatening diseases. Free treatment will be provided to the under privileged children coming under the BPL category.
As a part of Corporate Social Responsibility, the Companies and Firms shall also contribute their largesse for this noble cause as Hindu Dharma preaches that Children are none other than Almighty themselves.
Donors of one crore and above for this noble cause will also be provided Udayasthamana Seva as a token of appreciation for their generous contribution towards this noble mission. Donors contributing less than one crore will be provided with the darshan and other privileges that are already existing for donations of the prescribed amounts.
The donors other than donating under Corporate Social Responsibility are eligible for Income Tax deduction under Section 80 (G) of Income Tax. The individual donors, shall avail Udayastamana Seva ticket for 25 years while for companies it is applicable for 20 years.
For complete details,
please visit www.tirupatibalaji.ap.gov.in or
Contact arjitham office phone No.-08772263589 or
Send mail to arjithamoffice@gmail.com
EXECUTIVE OFFICER
Proposed Super Specialty Hospital
'Save A Little Heart' – Sri Venkateswara Apanna Hrudaya Scheme
The donors Can sponsor the cost of a child's heart surgery by donating Rs.1,00,000/- to the hospital for this noble cause. The scheme will be called as "Sri Venkateswara Aapanna Hrudaya Scheme".
Sponsoring the cost of surgery to a child or neonate or in more numbers (Donor includes the individual, Firms, Corporates, Trusts).
Sri Venkateswara Aapanna Hrudaya Scheme in Sri Padmavathi Children Heart Centre, Tirupati and the equivalent value of cost of surgery at present is Rs.1,00,000/- to a child or neonate. One time privilege of extending Break Darshan to not exceeding 5 members on payment of break darshan charges by the Donor subject to availability. ln case of Firms, Corporates, Trusts, they may be allowed to sponsor not exceeding 5 members for Break darshan to be extended on payment of Break Darshan charges on getting eligibility under this Scheme.
Salient Features
1. Super Speciality Paediatric Hospital
2. Provision for Air Ambulance heli pad on roof top
3. Video Conferencing facilities on each floor
4. Dedicated Organ Transplant unit
5. State of art Bone Marrow Transplant Centre
6. Floor wise distribution of various Specialities
7. Provision for Private and Semi Private Wards along with general wards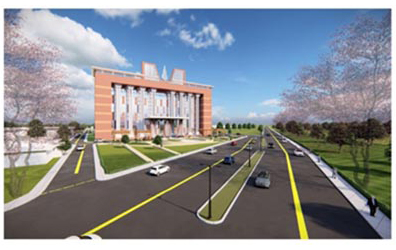 Specialities Proposed
1.Paed.Cardiology & Cardiac Surgery
2.Paed. Neurology & Neuro Surgery
3.Paed.Nephrology & Urology
4.Paed.Haemato-oncology
5.Paed.Genetics & Child Development
6.Paed.Endocrinology & Paed. Pulmonology
7.Mutli – Organ Transplant Unit